Ah, the many benefits of niacinamide! I call it the great 'multitasker'. When I first formulated
 

Vitamin B serum

 

over 15 years ago, I had women absolutely gobsmacked at how it transformed their skin so quickly. Here's why...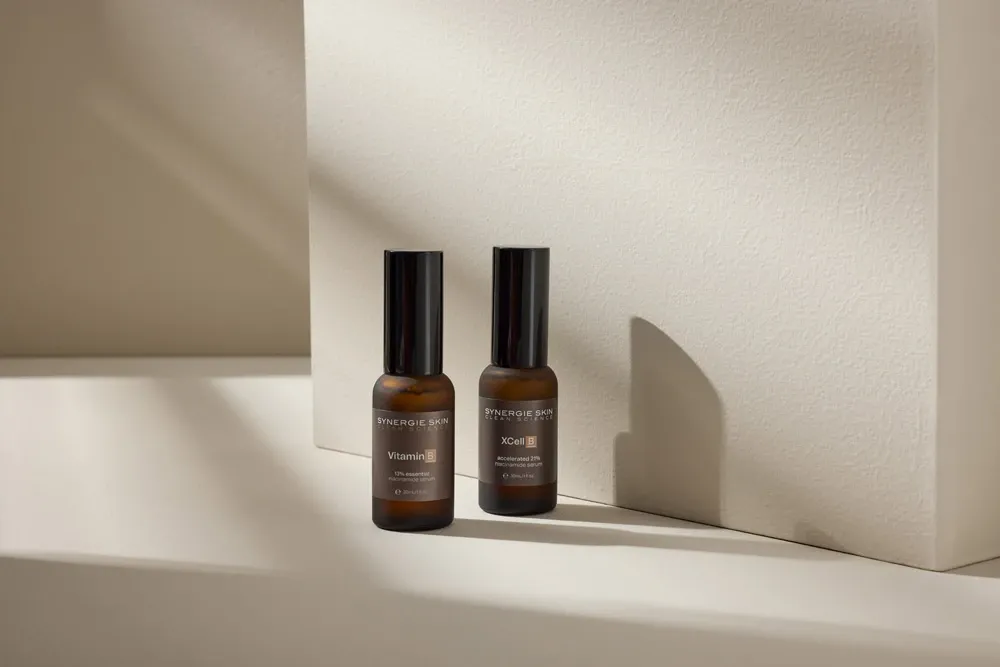 Niacinamide makes your skin barrier super strong
It stimulates the production of 3 key skin barrier proteins, filaggrin, involucrin and keratin. If your skin barrier is healthy, it stops the entry of nasty bugs and pollutants, and your skin will look healthy. This is really important for those of us with sensitive skin as it really helps with redness and inflammation.
Niacinamide increases skin ceramide levels
Ever heard of that 'pregnancy glow'? That is because of the increased levels of a natural skin lipid called ceramide in the first 3 months of pregnancy. Ceramides are vital at preventing water loss from the skin and keeping it luminous. Daily use of vitamin B3 will give you that dewy glow in just two weeks!
Niacinamide makes your skin firmer and more youthful
This wonder vitamin also increases the production of collagen. This skin protein makes your skin firmer and reduces the appearance of fine lines.
Niacinamide reduces skin hyperpigmentation
Vitamin B3 also works to reduce uneven skin tone, sallowness and sun damage. It actually acts as a gate to prevent the transfer of excess melanin pigment to the skin cells of the surface.
Niacinamide boosts the immunity of the skin
Our skin has its own immune system that helps us fight invaders and disease. Niacinamide helps to make our skin more resistant to the bad guys and the result is overall better skin health.
Niacinamide is a must for oily skin and breakouts
It acts directly on the oil glands to reduce the overproduction of sebum.
Who can use niacinamide?
Everyone! I truly can't think of anyone who would not benefit from this incredible multitasker that addresses almost every skin concern, including hydration, redness and sensitivity, aging, pigmentation and blemishes.
Is there anyone who shouldn't use it?
I have not had any client who has reacted to niacinamide since I began formulating.
Is it more effective as a single ingredient or does it work well coupled with other actives or ingredients?
The effects of niacinamide may be further amplified by the addition of D-panthenol (vitamin D5) to formulations.
Is there anything to be wary of when using niacinamide?
When niacinamide is subjected to highly acidic products it undergoes a chemical reaction to form a compound called nicotinic acid. Nicotinic acid may cause facial flushing but is not harmful to the skin. However, the beneficial effects of niacinamide will be lost if this occurs.
Therefore, vitamin B3 should not be mixed with products with an acidic pH, such as AHAs, BHAs or L-ascorbic acid. I always recommend applying niacinamide serums in the evening, usually accompanying your vitamin A serum (such as Synergie Skin's Ultimate A). Then you can save your acidic products (AHAs and L-ascorbic acid) for your morning routine. Synergie Skin's XCell B serum is a serious step up from our award-winning Vitamin B serum and perfect for those who feel their skin is ready to take on a stronger nightly dose.